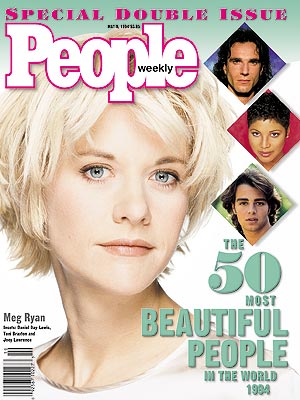 Name:
Ryan, Meg

Real Name:
Hyra, Margaret Mary Emily Anne

Birth Date:
19 November 1961, Fairfield Connecticut, U.S.A

Height:
5.8"

Eyes:
Blue

Education:
High School: Bethel High. Connecticut.
University: New York University with a Journalism Major.

Resides:
Homes in California and Montana.

Married:
'Dennis Quaid' (14 Feb '91 - present)

Children:
Jack Henry ( April 1992 )

Parents:
Hyra, Harry
Jordan, Susan

Brothers:
Andrew

Sisters:
Dana
Annie

Pets:
Brown Labrador: Dave
Horse: Abraham

Production Company:
Prufrock Pictures

Estimated U.S total box office gross:
Above 700 million. Well over 1 billion worldwide.

Film Agent: ICM (International Creative Management)

Blond-haired, blue-eyed with an effervescent personality, Meg Ryan
graduated from Bethel high school, Bethel in June 1979. Moving to New
York, she attended New York University where she majored in journalism.
To earn extra money while working on her degree, Meg went into acting
using her new name Meg Ryan. In 1981,
she had her big screen debut as Candice Bergen's daughter in George Cukor's last film Rich and Famous (1981).
She tried out and was cast as Betsy in the day time television soap "As the World Turns" (1956).
She was part of the cast from 1982 to 1984.
Meg also had a part in the television series "One of the Boys" (1982), but this show was soon cancelled.
In 1984, she moved to tinsel town and landed a job in the western Television Series "Wildside" (1985).
With her part in the highly successful movie Top Gun (1986)
Meg became a star with "take me to bed or lose me forever".
This led to Meg being cast in Steven Spielberg's movie Innerspace (1987) where she co-starred with Dennis Quaid.
She again co-starred with Quaid in the remake of D.O.A. (1988) and they married on Valentine Day in 1991. In 1989,
Meg appeared in another blockbuster called When Harry Met Sally...
(1989) and the scene at the restaurant became famous. Meg was nominated
for both the Golden Globe and the BAFTA. In 1990, she co-starred with Tom Hanks in Joe Versus the Volcano (1990)
and this time she played three roles as DeDe/Angelica/Patricia.
She appeared again with Tom in the very successful Sleepless in Seattle
(1993) for which she was again nominated for the Golden Globe. In 1994,
Meg decided to act against type when she appeared as the alcoholic wife
and mother in When a Man Loves a Woman (1994).
After that, she went back to "cute" with both I.Q. (1994) and French Kiss (1995).
In 1994,
Meg won the Harvard Hasty Pudding Award as "Woman of the Year"
and was voted as being one of "The 50 most beautiful people in the world 1994" by People Magazine.
Meg is the cutest acteress ever .